In our opinion, it is the hunting dog that makes the upland bird hunting experience. The best dog is a loving companion and tireless hunter that works for the handler because the dog loves doing it. Good dogs come from all breeds. If you don't have your own hunting companion, or would like to hunt your dog with one of ours, we provide a dog and handler for a nominal fee. We have found that the hunt is most enjoyable and best for our clients and dogs when the ratio is not over 4 hunters per dog.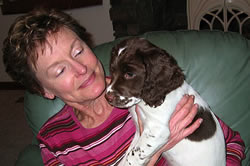 Currently our flushing dogs are provided by outside handlers.  We have retired the English Springer Spaniels provided by Leaning Oaks, LLC.  Brenda Cates.  She will be bringing in two others that will be ready around October or November.
The flushing dogs available to us are Springers and have achieved success in AKC hunt tests, or are very experienced field dogs.  They remain within range, flush birds and retrieve quickly and efficiently and happily return to hunting. That is all we can ask.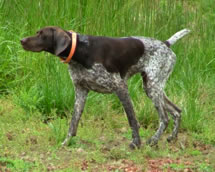 Although the smaller flushing dogs handle the heavy cover extremely well, many of our clients might prefer a pointing breed. To that end, we have KC a German Shorthair bred by Howard Meyer of Chippewa Kennels (www.chippewa-gsp.com).  KC is owned and handled by Kendall and is an extremely reliable hunter and an excellent tracker. Kendall also handles Windy, Georgie and Lizzy also shorthairs from Howard's kennel.  Kendall also trains his dogs as hunting companions, and asks only that they find point hold and retrieve. They do that with verve.  We have also arranged with other handlers in the local area for pointing dogs.  Most of them are Shorthairs, Pudel Pointers or Brittany's.  Occasionally Kendall's son Nick will handle his Wire Haired Pointing Griffon, Gunther.
We have carefully selected our dogs and handlers to provide the very best classic pheasant hunting experience. We should probably note that all of our dogs get more experience in a few months than most dogs do in several years.
The photo gallery here is of our hunting companions and some of the others that have hunted our preserves.